Drumming up participation
The Day, Sunday June 17,
Felicia Hurley of Writers Block Ink leads a group of third-, fourth- and fifth-graders at Stanton Network School in Norwich on a tour performing African drumming and dance in classrooms around the school Friday, June 15, 2018. The students learned West African radiational rhythms with the help of Writers Block artists facilitated through the United Community and Family Services school-based health center to build self-confidence and support mental and physical wellness. The performances were the culmination of the academic-year-long program. Click Here to See More
---
Art for a Cause: Raising Voices Against Domestic Violence Project
Writer's Block Ink
May 11, 2017
The Clothesline Project started in the 1990s to educate communities and provide a voice for survivors of domestic violence... Click here to read more!
---
Region's Youth Perform Show about Urban Violence
New London High School
August 16, 2014
A group of about two dozen local students at New London High School on Saturday stages a performance of "Sincerely, The Streets," an original play that tackles the... Click here to read more!
---
Finding Community: Engaging Diverse Audiences in a Historic House
Center For The Future Of Museums
January 31, 2013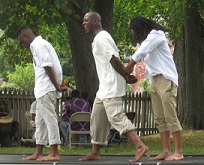 To reinvent the historic house museum experience, we decided to engage what is probably the toughest historic house museum audience out there: teenagers. Partnering with The Writer's Block, Ink, a local organization that seeks to give young adults the power to use pen and prose to ignite social change, next summer we will ask a group of teens to reinterpret the property in a way that they think will be compelling to their family and friends. We are going to provide art handling training, require historic accuracy, and we won't let them take down any walls, but generally we want to give them the freedom to share the stories of the individuals who lived, worked, fought, loved, rested, and even slaved at this property as they see fit.
Read more from Center For The Future Of Museums
---
Community Foundation grants $12,000 to New London arts programs
By Karen L
Editorial Section
The Day Newspaper, New London, CT
January 7, 2013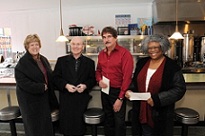 Two New London-based youth arts organizations - Writers Block Ink and Hygienic Art Center's Do the Write Thing - each celebrated the New Year by receiving $6,000 grants from the Community Foundation of Eastern Connecticut.

Pictured: Community Foundation of Eastern Connecticut President Alice Fitzpatrick (far left) and Connecticut College President Leo I. Higdon Jr. (left center) present $6,000 grants to A. Vincent Scarano, president of Hygienic Art (right center), and Theresa Broach, general manager of Writers Block Ink (far right).
---
Recognition For Those Behind City's Youth Talent Show
By Staff
The Day Newspaper, New London, CT
October 4, 2012
The New London Youth Collaborative has handed out awards to individuals and groups who participated in, and contributed to, the 2nd annual New London Youth Talent Show.
Groups that helped with the production included Writer's Block Ink; Partners: Arts, Community & Education (PACE); We're Too Original (WTO); New London High School Band; the mayor's office and City Council; radio station Jammin' 107.7.
---
Writers Block, InK presents The Freedom Fair
By Staff
Chamber Of Commerce, Eastern Connecticut
September 23, 2012
The Writers Block, InK, in collaboration with Connecticut Landmark's Hempsted House, announces their encore production of Wealth in Skin: Creative Historical Freedom Stories at 12:30 pm and 3:00 pm on Sunday, September 23 at The Hempsted House grounds located at 11 Hempstead St in New London, CT. Also, an exhibition of the research and writings of the Writers Block participants will be on display in the Nathanial Hempsted House.
This summer Connecticut Landmarks collaborated with the Writers Block, InK to create jobs for teens, including six high school students - Kirshon Augmon, Isaiah General, Noah Jenkins, Ronnie Rogers, Jalen Sampeur, and Derrick Silvan, as well as one college student - David Williams. These students, known as The Boys on the Block, researched the life of Adam Jackson, who was enslaved to Joshua Hempsted, the lives of other prominent African American historical figures in the New London area, and the broader history of slavery in Connecticut during the 17th and 18th centuries.
Read more from Chamber Of Commerce, Eastern Connecticut
---
Seats Filling Up For New London Youth Talent Show
By Dirk Langeveld
New London Patch, New London, CT
March 19, 2012
The rehearsals and hard work of youth from around New London County will culminate Saturday in the second annual Youth Talent Show.
Doors open an hour before the 6 p.m. show on Saturday, which is again taking place at the Garde Arts Center. The event is sponsored by the theater, Jammin 107.7, Kitchings Productions, and Writers Block Ink.
Curtis Goodwin, owner of I AM Me Studios and an organizer of the event, said he hopes this year's show will be as successful as last year's debut. The 1,472-seat theater sold out for the event, and Goodwin estimated that over 200 more were turned away after the Garde hit capacity.
Read more from New London Patch
---
A Modern Day Hempstead House
By Amy J. Barry, Special To The Times
The Day Newspaper, New London, CT
August 11, 2011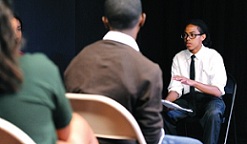 The concept of "The Secret Wells" was born after Writers Block students were invited to a community meeting for The Judy Dworin Project, Lasenberry explains, and saw a DVD of "In This House," which premiered in Hartford in April and comes to The Garde Arts Center on Oct. 13.
The question, "What's going on in your home?" is posed at the end of "In This House," and was the impetus for the students to write their own piece and explore what's going on in their own lives, says Lasenberry, "and raise awareness about our past and how it effects our present day, and can build our future."
Pictured: Kirshon, right, age 15, plays the role of a teacher talking to students during a scene from the Writers Block, Ink, production of "The Secret Wells Behind These Walls" at the Writers Block Ink Performing Arts Center in New London, CT.
---
Groban makes donation to Writers Block, Ink
By Staff The Day Newspaper, New London, CT
July 23, 2011
Writers Block, Ink has been selected by multi-platinum singer-songwriter Josh Groban to receive a donation from his new Find Your Light Foundation, which is dedicated to enriching the lives of young people through arts, education and cultural awareness.
"We are very excited for this wonderful opportunity for our students. With the support of Mr. Groban and his foundation, we will be able to continue to offer performing arts programs for youth and fulfill our mission of igniting social change on the page and stage," said Lisa Giordano, program director for Writers Block, Ink.
Groban gave free tickets for the participants of Writer's Block, Ink to see his performance at the Mohegan Sun Arena on July 30. Groban has invited the young people backstage before his performance to personally inspire them to continue in the arts.
---